How The Purchase Process Works
Step 1: Enroll in the course and pay the required tuition and fees at your College or University.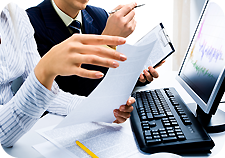 Step 2: Read the course syllabus carefully for important course information. It may be attached to the instructor's welcome email.

Step 3: Register & Purchase the course software using the correct link below. You can only purchase one (1) course per order.
Steps to Register & Purchase
Step 4 - Select the course you are purchasing from the list above.
Step 5 - Course Information: select the semester, the university, the course and section then enter your student ID and click ''continue.''
Student user info: if you have never registered with Faulkner Press before you will need to create an account. Enter your information in the appropriate fields, it is recommended to use the email address provided by your university, and then click ''submit.'' If you are a returning user enter your login information at the top login and ''continue.''
Step 6 - Payment Information: Select your payment method, to use a gift code enter the code into the gift code field. Faulkner Press processes all transactions using PayPal Check Out. You can pay with a PayPal balance, a Credit Card or a Checking account using PayPal checkout. You can use PayPal guest checkout if you do not already have a PayPal account. If you use guest check out please note that you cannot use an email address or credit card associated with a pre-existing PayPal account. If you have any questions about using PayPal you will need to contact PayPal directly.
Step 7 - Once you have completed payment and returned to the Faulkner website, continue and confirm the purchase. You will receive a copy of your purchase invoice sent to the email address you provided. Download and register your software after logging into your Student user account.
Deferment Demo
When the Courseware is in Deferment Demo Mode you will only have access to the first three topics (readings, presentations, and practice questions) of the course.
You will not have access to any (graded) online exams and the practice work you do will not be saved. In Deferment Demo mode the courseware is installed only for one use. You will need to reinstall if you wish to use the Deferment Demo again.

Accessing the Demo


1. Select the Electronic Product from the Catalogue.
2. Download and Save the courseware file to your computer.
3. Open the file after the download has finished.
4. Click on the button in the "Try" area located in the lower left hand corner of the Application Assistant.